Vacation apartments in SARRIÀ-SANT GERVASI
MITRE DIAGONAL
4 people · 3 bedrooms · 70m2
Excellent
9,2
(based on 15 reviews)
---
Monthly apartments in SARRIÀ-SANT GERVASI
CASTELLNOU
4 people · 3 bedrooms · 90m2 · Monthly rentals
Excellent
9,4
(based on 10 reviews)
PLAZA MOLINA
4 people · 2 bedrooms · 90m2 · Monthly rentals
Very good
8,9
(based on 11 reviews)
Discover Sarrià-sant gervasi district of Barcelona
Sarrià-Sant Gervasi is a charming and distinguished neighborhood located in the northwest of Barcelona, Spain. It is known for being one of the most exclusive and residential neighborhoods in the city, with a quiet atmosphere and a great quality of life.
The neighborhood is divided into two main areas: Sarrià and Sant Gervasi. Sarrià is considered an old town that was annexed to Barcelona, and it still retains its village atmosphere with cobbled streets, stately homes and picturesque squares. Here you will find a large number of boutique shops, charming cafes and traditional restaurants, where you can enjoy authentic Catalan cuisine.
Sant Gervasi, on the other hand, is a more modern residential area with elegant residential buildings, wide avenues and green areas. It is an upper-class neighborhood that is home to beautiful mansions and exclusive apartments, making it one of the most desirable places to live in Barcelona.
Sarrià-Sant Gervasi also offers a wide range of cultural and recreational activities. You can visit the Parque de Monterols, a wooded park that offers an oasis of tranquility in the middle of the city. In addition, the neighborhood has numerous cultural centers, theaters and art galleries where exhibitions, concerts and cultural events are held throughout the year.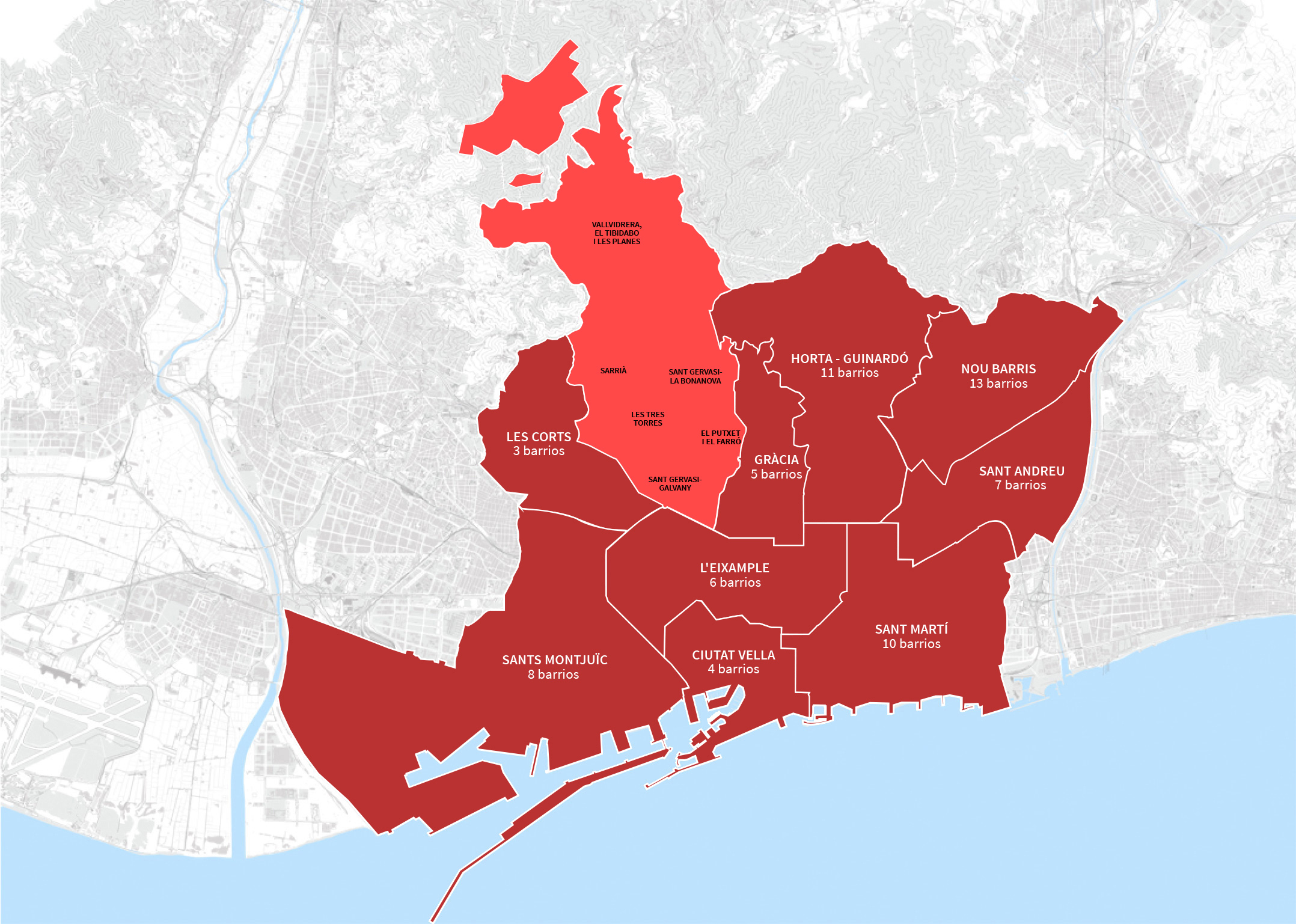 One of the most popular attractions in Sarrià-Sant Gervasi is the Parque de Collserola, an extensive natural park that surrounds the city. Here you can enjoy trails for walking, cycling or simply relaxing in the middle of nature, all with stunning panoramic views of Barcelona.
In terms of transport, Sarrià-Sant Gervasi has excellent public transport connections, which makes it easy to travel to other parts of the city. It is also well connected by road and has several train and bus stations.
In summary, Sarrià-Sant Gervasi is an exclusive and residential neighborhood that combines the elegance of classical architecture with the modernity of its more contemporary areas. With its quiet atmosphere, picturesque streets, large green areas and a wide cultural offer, this neighborhood offers an exceptional quality of life and is a hidden gem in the heart of Barcelona.